Puppies
***NEWS!!!!
Thinking about packing up some older in training puppies in the motorhome and heading to AZ. Anyone want to meet me in AZ and collect an older pup? I am ready for some SUNSHINE!!!!
Please see older pups on the older puppy link on the previous page.
Add a training package to any of our puppies 10 weeks old or older!
We will also continue to integrate over to our new site www.miniaturegoldenretriever.com
PUPPIES: Scroll down to see any current availability.
Read "about" Miniature golden retrievers by clicking HERE
Notice: Puppy price for miniature (36-56 lbs) is now a flat rate unless otherwise marked: $2500
Toy- (22-36 lbs) $3500
Pocket Goldens- Hard to find (25 lbs and under)-$5000
Puppies leave at 8 weeks of age. Shipping is available via AK Airlines to many places!
We do prefer to have you fly into Spokane whenever possible.
Notice : NO SWITCHING/TRANSFERRING AFTER YOUR PUPPY 3 WEEKS!!! If you back out, you must tell me before puppy is 3 weeks or forfeit your deposit.
***NOTICE :
If the group of puppies is less than 5 weeks old, I can't tell you which is available. We dont choose who gets which puppy until they are 5 weeks of age. IF there are any puppies left at 5 weeks of age...we will post them. We also determine projected SIZE and COLOR at 5 weeks. Example: at 5 weeks you will see how many golds, reds, toys, miniatures, tiny toys there are. If you are the last one on the list and the puppy size / color ect is not what you wanted, you may transfer at that time.
Thanks!
Expecting: a few litters Currently:
Sweetie was bred to Jakey for puppies arriving aprox 2/13/23 Toy (possible pockets) light golds and creams! 1st and second choice male and female are reserved. we will also accept two gender neutral deposits for sweeties projected litter
Spice X Willie should have a Mini red and gold litter aprox late Feb 2023
Snowy X Jakey Should have a cream miniature litter aprox late feb 2023
Pepper was bred to Mario for mostly toy sized dark golds and reds. Due Late March 2023
Rainy was bred to Gideon for mostly toy (possibly some pockets) dark golds and reds. Due late March 2023
Polly had her little pocket male on 1/28/23 Will post pic shortly!
Pepper (Toy Golden Retriever)X Fonzie 2 (mini poodle) Male. Projected size 25 lbs or less. This fun little guy was born Sept 24, 2022! He weighs about 6-8 lbs at 16 weeks. Typically mini goldens double their weight (give or take 3-5 lbs) at 16 weeks of age. So he will likely be 12-20 lbs. Straight coated but likely low shedding and very lovey!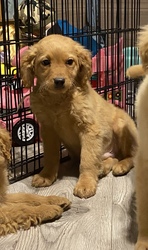 Below is Meg (mini goldendoodle straight coat) X Buddy (Mini goldendoodle with a straight coat) Male. Gorgeous, light gold in color, straight coated, all golden retriever traits...Born Oct 1 2022. Likely to mature 21-27 lbs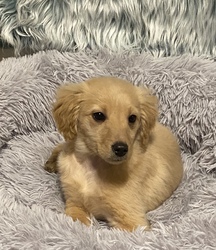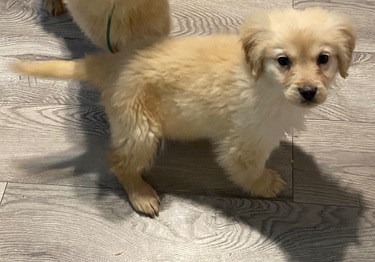 Hallie X Scotty Toy Male born 9/23/22 pictured above: And 1 available Toy Female below:
See video of Hallies girl : HERE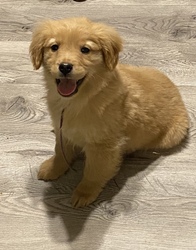 All puppies have a 2 year written guarantee to be free of all life threatening genetic defects or we will replace your puppy. All puppies will get at least one shot and be dewormed while here. We are a FAMILY breeder of miniature golden hunting dogs and all of our dogs are indoor/outdoor dogs. Raising suitable family and hunting dogs is our main objective. Because we have "little ones" too, temperament is a KEY factor in our breeding program.
We do not sell as breeders. Spay and neuter required.