Puppies
PLEASE SEE INDIVIDUAL PRICES ABOVE EACH PUP/LITTER!
Prices range from $1100-$2500
See our "nursery" puppies below all the text
This page will have our youngest pups on it.
ABOUT Miniature and Toy Goldens: #1) I Typically DO NOT LIST PERCENTAGES ANYMORE! There is no point to keep doing it. We are many generations down the road. If you like the parent dogs, go with that. If we breed back to a purebred, those will be higher percentage puppies. If we breed back to one of our larger, almost pure bred females....those will be higher percentage puppies.
Please keep in mind that achieving a miniature golden retriever with all of its golden retriever traits is a tough chore. A Toy golden is even more difficult and there will be less actual golden in many toy matings. That being said, our golden percentage is constantly "on the rise" with even our toy matings. We do not sacrifice the golden retriever look, disposition or personality with our toys so we are very selective in choosing our toy lines. Sooooo.....be prepared for a sweet baby that is at least 50% (typically 63-82%) golden retriever in gene, but ALL BUBBLY, HAPPY, WIGGLY, golden retriever in personality!
AKC GUIDELINES RATE FROM 1-5 ( Jack Russell Terrier and Labrador Retrievers both being a 5 and Golden Retrievers being a 3)
TOY ENERGY- 2-4 (3 average)
PURE GOLDEN ENERGY- 3
MINIATURE GOLDEN ENERGY- 1-3 (2 average)
Miniature golden size= 28-54 lbs
Toy Size = under 35 lbs
Typically 25-33 lbs
Although we can not guarantee size, we have come a long way and feel pretty good about most of our dogs staying within or at least close to the size estimates given.
PICTURES are updated every 7-14 days and will be posted on the proper puppy page. Please see our "picture day" page
On occasion have a couple straight coated doodle puppies that will likely be lower shedding if you are looking for that. It would be very similar to a Comfort Retriever but not exactly. Contact me if you are interested.
Missy had her litter by Buddy on 3/2/19. We expect this mating to produce puppies maturing between 30-42 lbs.$1700 for Missy males 76% Golden Retriever!!!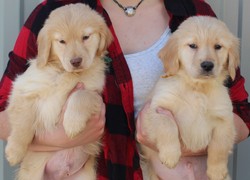 Meggy had her litter by Maui on 2/21/19!!!
These puppies will be toy sized.
She has some tiny ones and I personally am way excited!!!
Meg (lg toy/sm mini white male on right ) Price: $1900 (estimated size 27-36lbs) can not guarantee.
Meg (toy male on left) Price: $1900 (estimated size likely 20-27 lbs) can not guarantee.
Meg herself is half poodle so if you noticed that she is not as "perfect" in golden appearance, that is why. Her offspring (this litter) is almost 62% golden. These pups are 26.5% poodle. They may shed slightly less than some of our puppies but no promises.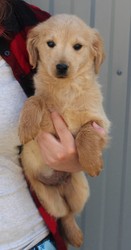 Ivory X Jack Litter Below:
Born: 1/10/19
Puppies to mature 30-45 lbs (contact me for speciffic adult size estimates per puppy since they are now 16 weeks we have those estimates.)
Ivory's puppies are 81% Golden Retriever
Ready to go now!
Males $1400 (to mature about 32-38 lbs) https://youtu.be/LbBttaOriQ4 (video of Ivorys boys)
Females $1800 ( to mature about 27-35 lbs) https://youtu.be/uPdHWDYxNVQ (video of Ivory female with Heavenly M)
Please let me know if you would like to add a training package! (We will let you know about current space and availability)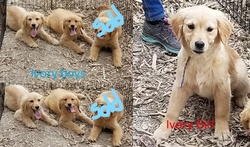 Here is a link to a puppy from this litter (Charity's) after 3 weeks training with our trainer in Idaho! https://youtu.be/1Mo3-CSXQLA
Charity had her litter by Jack on 2/6/19 77% GOLDEN RETRIEVER!!!!
We have 1 black one and the rest are gold. Please stay tuned for picture updates.
We expect this litter to be VERY similar in personality to our beloved Missy (see videos of her) Possibly even smaller though.
Male $1400 (35-45 lbs)
Females $1600 (35-45 lbs)
Merle or Black puppies $1000
See CURRENT Video : https://youtu.be/U5jnkqr2Sdk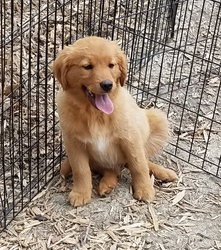 Bucha (Bookah) had her puppies by Jack on 12/29/18
Born 12/29/18

Girls to mature 27-33

lbs

Boys to mature 30-38 lbs

Males $1400

Females $1800 (video of girls) https://youtu.be/BNgtnD63o7E

Very nice miniature golden retriever litter with that classic

golden look with a touch of baby face.

Bucha is one of the prettiest girls that I have.

All puppies should be perfectly tempered as well.

Buchas puppies are 81% Golden Retriever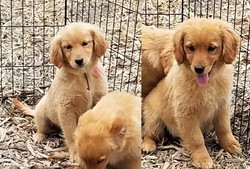 Heavenly had her puppies by WooleyBear on
Born 12/31/18

Males $1400 33-37 lbs

Females $1600 (none available)

Very nice miniature golden retriever litter. We have done this mating before and the pups are all very gentle spirited and have had great dispositions. Some of Heavenlys pups have been in music videos (Demi Lovato I have heard) and are pictured on instagram.

Ready to ship about the 25th of Feb 2019

Heavenly boy below: 76% Golden Retriever https://youtu.be/uPdHWDYxNVQ (video link with Ivory girl please ask for video by himself if interested in him)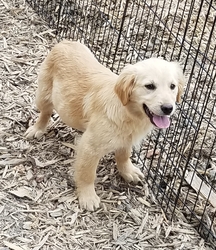 All puppies have a 2 year written guarantee to be free of all life threatening genetic defects or we will replace your puppy. All puppies will get at least one shot and be dewormed while here. We are a FAMILY breeder of miniature golden hunting dogs and all of our dogs are indoor/outdoor dogs. Raising suitable family and hunting dogs is our main objective. Because we have "little ones" too, temperament is a KEY factor in our breeding program.
We do not sell as breeders. Spay and neuter required.