Retired dogs
NOTICE: Next Idaho trip is early April 2020
We can deliver puppies and adults along the route. ( We may offer some discounts on adults that go on this trip) Helena, Missoula, St. Regis, Kellogg, Saint Maries.
I am adding older puppies to this page that may or may not have a start on training.
We are so behind this year as we purchased a place in Idaho that will be much better to feed our large animals on. However....it has been a long road and we have several older puppies that need socializing and training because of our lack of time. We are going back and forth from MT to Idaho at least once per month.
Please let me know if you are interested in an older puppy that needs some work? I currently have English creams and very light golds. I also have dark golds as well. We also have some that are already being trained for discounted price from our typical training fees.
The puppy prices will start at $500 (needs a lot of work/patience) and go up as their training progresses.
Most puppies are between 6 mos - 16 mos of age.
If you need anything delivered that direction, it will be much less than shipping.
We can not ship to Canada but can ship to a U.S. airport near the border.
On this page we will offer retired breeders or other adults:
Each dog will have different levels of training so please read the short description by each one for individual personalities and training levels.
Our retired dogs are males and females that are no longer needed to continue on the miniature and toy breeding program. These dogs typically are between 1-5 years old, crate trained (not house trained) ( which means they will typically hold it overnight or at least several hours while crated before having to go potty outside) know their names, come and sit. (please ask specifics for the dog you are interested in) Many of them also will walk on a leash without fighting and trying to get away (AKA LEASH TRAINED). Many will be doggy door trained as well. Doggy door training at our place is not giving them free reign of the house but typically only 1 room. So I can not guarantee that they will be doggy door trained at your place if the setup is different. Pricing for miniatures are "typically" $1200-$1700 which includes crate, spay or neuter, current rabies, and "standard" shipping costs. Toy adult pricing is typically $1700-$2400 which also "typically" includes crate, spay or neuter, current rabies, and "standard" shipping costs.
LIST of retiring adults (Keep watching for updates as new dogs are added as I make adjustments) be prepared to tell me about yourself if you are wanting a retired adult. Adults DO NOT "always" acclimate as well as puppies so finding the right home for an adult is top priority.
Please see pics on our parent dog pages for now.
SCROLL ALL the way down to see Fred (SOLD) and Ace pics and video
We will be homing several of our adults now or in the near future as we are planing a drastic cut down. Some of these dogs will include:
Pearl - $700 plus spay, shipping (if needed)
Abbey -$800 SOLD plus spay, shipping (if needed)
Meg TBD (special patient home)
Callie (toy SOLD) $900 plus shipping and spay (after spring 2020 litter is weaned) (about May 1stish). Callie is sweet but a little standoffish She needs a special patient home but she will likely do great as a full time house pet. ;)
Missy- miniature, spayed, perfect....but has a health defect that will not likely require any future medications ect. $200 to approved home.
So if you are interested in ANY of these dogs, be prepared to tell me about yourself and your home environment so we can find the best fit for both you and the dog.
Prices range from $400 - $1700 plus shipping,ect. Shipping is $400-$500 (spring, fall and winter) Up to $575 if it is a larger adult and it is summer where temps exceed 80 deg anywhere on the rt. Spay or neuter is $200.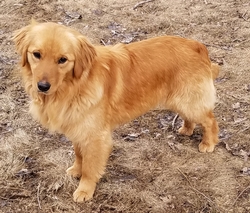 Fred (SOLD) started training!!! Crate, come, sit, leash trained. I am going to say....he is pretty well potty trained at this time. (not positive on that but he is doing GREAT) Fred is also neutered and rides in the car well, does pretty well off leash (in the country) Excellent dog! Fred is just over a year old, about 38-40 lbs. $1500 for Fred, " Ace of my Heart" AKA "Ace" (see pics below: Video to follow shortly) Ace is an AWESOME dog! Gorgeous English Cream miniature male, just started training. He is going to be a keeper for sure! 8 mos old on March 26th! Fully grown, roughly 38-42 lbs nice nice boy!