older puppies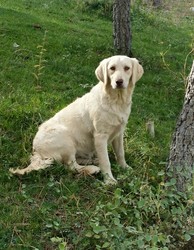 Skye X Oliver Female above born 2/10/18 Name (TBD)
Likely to mature 36-43 lbs

English cream in color

Started training (This girl is nothing but pure love)

She is not overly energetic, not real outgoing but will make a great dog for someone who wants to keep a dog primarily at home and occasional trips to the lake house. I would expect her to be a bit timid in a city environment as she has never left the farm. We will see how training progresses.

Price TBD after we have a good start on her training "Likely" about $1800 including shipping, rabies, adult crate.
Liberty X Jack
Puppy Below born 2/1/18
Likely to mature 30-38 lbs
Way sweet boy
Training has began price TBD