Lifes Abundance Pet safe Products and treats!
Life's Abundance Pet safe cleaning products, Training treats, Weight loss formula and supplements for you beloved pets.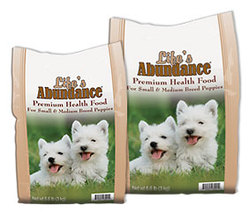 "Lifes Abundance All Stages dog and puppy food" The healthy goodness of a home-cooked meal.Life's Abundance Premium Health Food is made with select ingredients, including high-quality chicken and catfish meals, whole grains, nutritious vegetables and fruits, omega fatty acids and much more. We never use corn or wheat products and we never use artificial flavors or colors. With Life's Abundance, you can be confident that you are feeding your dog advanced nutrition.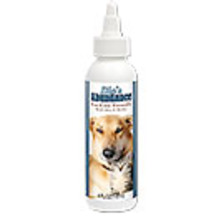 Ear Care Formula:
Cleans ears and eliminates odor, dissolves ear wax and removes dirt and debris by bringing it to the surface. Ear Care Formula dries the ear but don't worry, there's no alcohol. It also soothes the ear during application and long after.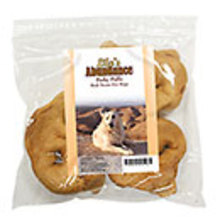 Porky Puffs:
They are easily digestible and therefore a safe alternative to rawhide, which can cause choking, throat irritations and potentially dangerous intestinal blockages.
Since the digestive system is the first line of immune defense, treating your dog to a Porky Puff won't put a strain on his or her health, like other highly-processed products on the market today. You'll feel better providing a treat they'll love, while helping to maintaining a healthy digestive system. And Porky Puffs are appropriate for dogs of all ages.
Give your sweet pup something to be truly thankful for – yummy Porky Puffs!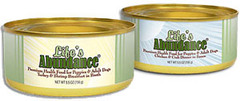 Lifes Abundance Canned Dog Food:
Our holistic veterinarian has created not one, but two masterpieces of canine nutrition! We now offer premium canned dog foods formulated especially for breakfast and dinner. Your dog will flip for Turkey & Shrimp Breakfast in Broth, a savory omelet-inspired serving of turkey, shrimp, eggs, red skinned potatoes, red bell peppers and cheddar cheese. And at the end of the day, they'll relish the delectable Chicken & Crab Dinner in Sauce, featuring organic chicken, crab, eggs, carrots, red skinned potatoes, peas and apples in an appetizing sauce.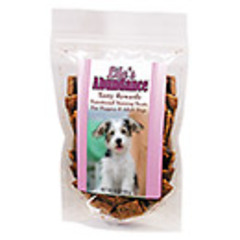 Tasty Rewards Training Treats:
Tasty Rewards are wholesome nutritional training treats made from New Zealand-raised chicken and lamb.
They're loaded with proteins, minerals, vitamins and essential fatty acids. And, like all of our foods, supplements and treats, you'll find no added chemical preservatives or artificial coloring.
With Tasty Rewards Training Treats, discipline can be delicious!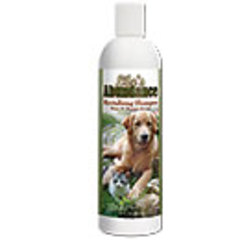 Revitalizing Shampoo for Dogs & Cats:
Pamper your precious pet with Revitalizing Shampoo. The revitalizing botanical infusion of organic rosemary and sage along with nourishing essences of coconut and palm kernel oil will naturally cleanse and beautify your pet's coat as the luscious scents of mango and kiwi mingle with energizing citrus notes to bring out natural shine. Its moisture activated odor-fighters react immediately to absorb and neutralize tough pet odors.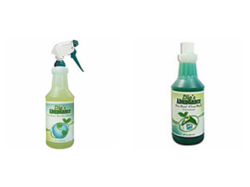 Bio Deodorizor and Floorwash Concentrate:
This amazing product (floorwash) contains microbial grease digesters that eliminate dirt, grime and odor-causing microscopic debris. Floorwash works extremely well on indoor and outdoor flooring. Just one bottle contains enough concentrate to make 32 gallons
Bio Deodorizer gets rid of odors by digesting their sources, utilizing friendly bacteria that eliminate organic wastes. It's non-toxic, fully biodegradable, has a neutral pH and contains no harmful phosphates. Comes with a heavy-duty sprayer nozzle!
http://www.lifesabundance.com/Pets/PetsHome.aspx?realname=20110140&cat=4&hdr=&Ath=True